What Is Little River English? Come meet us and find out!
* Occasionally you'll see product links from Amazon for things I use and recommend. If you click the link and buy, I can make a small commission. You can see my

disclosure

for full info.
Little River English: Who We Are and Why We're Here
Hey y'all, it's Cary Ann from Little River English, and I'm so excited that you found my site. Not even sure where to begin with all of this but let me just tell you a little bit about me and about Little River and just about all the things.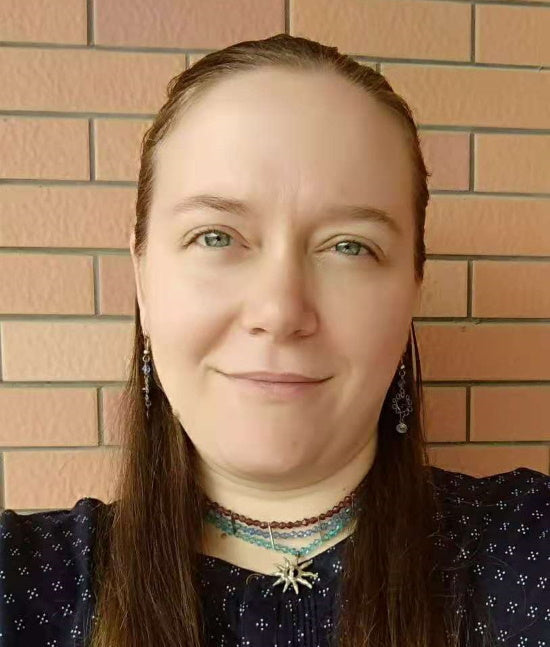 Me!
On a side note, it feels really weird allowing myself to write the way I speak. Honestly, I've been doing academic writing for so much of my life and even though I teach, I have fun teaching, and it's a great experience, to cut loose a little more when it comes to writing is totally foreign to me.
So I think this is going to be a really great opportunity to let go and show my creative side and my crazy side and just let you get to know the real me.
If you prefer, you can check out the podcast or vlog version of this post instead.
Background
When I do in-person events, people are always curious about my educational background and work experience, so I just wanted to cover that for a minute since that background really makes up the core of who I am as an educator.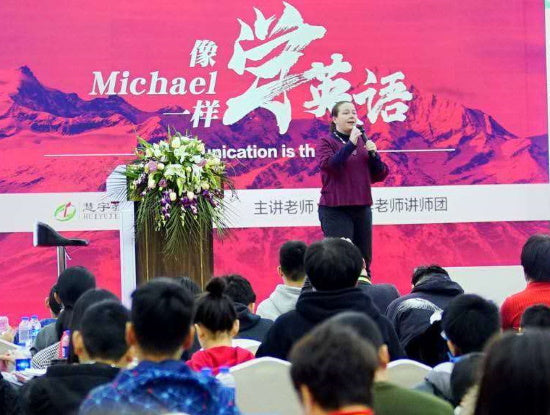 I've actually done a ton of different things in education and trying to condense the experience into a single page resume or a reasonable length blog post is pretty hard. But I'd like to at least attempt to briefly summarize some of my experience to give you a better idea of where I'm coming from here.
So actually Little River English is made up of myself and my husband Stephen. But he does more of the teaching and I do a lot more of the other things like writing and proofreading, creating resources and curriculum, speaking, and training other teachers.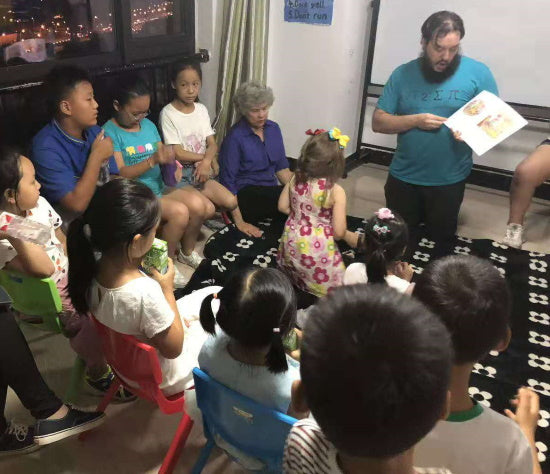 How I got into teaching
I've been in education in some capacity basically my whole life.
I actually was really interested in helping teachers from an early age. My mom was a school counselor, and I can remember wandering the halls after school ('cause I was bored and waiting for her to finish work) asking every teacher if they needed help with anything. I'd staple papers, remove staples, cut out activities, decorate bulletin boards, and anything else that a kid could assist with.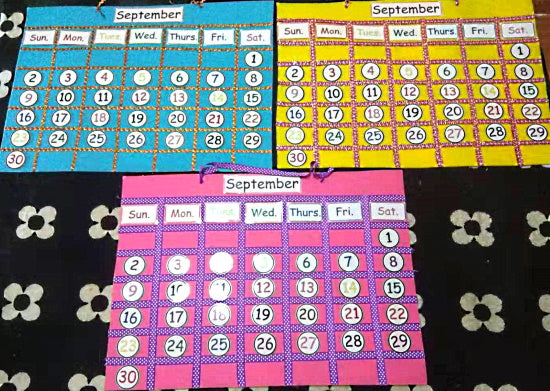 So even from an early age, helping teachers has been a huge driving force in my life.
As far as semi-professional experience goes, I started out way back when I was 13 and got my first paying (minimum wage, but hey, any money is nice when you're that young) job as a tutor. My middle school created a program to hire 8th graders to tutor 6th graders, so I was an actual school district employee at age 13.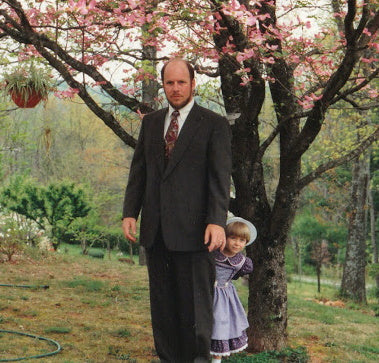 I then tutored all the way through high school and college, eventually making it up to $25/hour on my own. Big thanks to my mom, a school guidance counselor, for helping get my name onto the official school tutor list and helping me get noticed.
Finally, shortly after finishing college and getting married, hubby and I made the leap of faith to head to South Korea and teach English. I was the head teacher and helped design the curriculum and resources there for two years.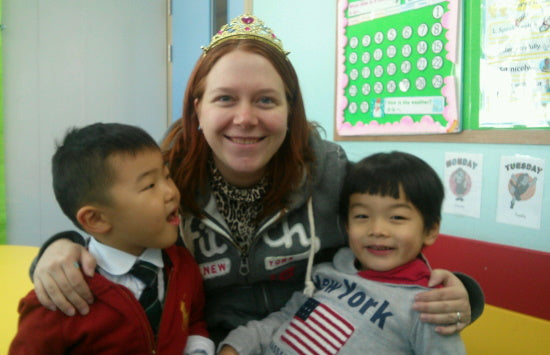 And after that, we headed over to China, planning to stay about two years. But life happened, my career took off, and so we're still here in Hangzhou six and a half years later. We may leave in the next year or so, but in the meantime, this is our home and we love what we do here.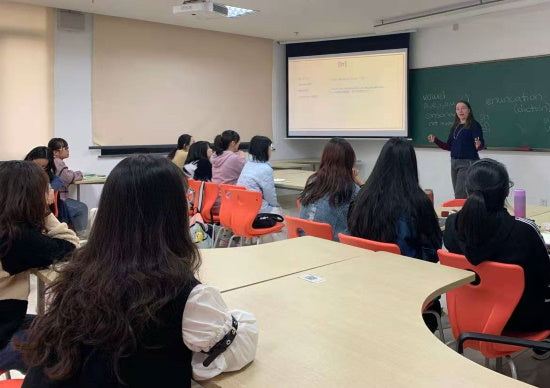 Educationally speaking, my bachelor's degree was in a completely different field (though I did originally plan to pursue it at a higher level and teach at a university). But my master's is in English Education and I'm currently almost halfway through a doctorate degree in Curriculum and Instruction, so I'm definitely in education for the long haul. Haha!
Little River English's start
As for LRE, we didn't plan to become what we are today. We just started out as a small English training school with small classes of kids here in China. That was fun for a while.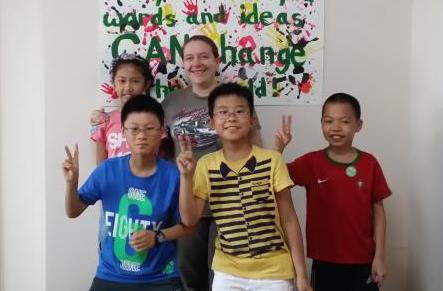 But I kept getting frustrated at not finding good textbooks for EFL students and not finding the resources I wanted. So I started going back to some of things I'd been doing in Korea and designing a lot of my own.
I was used to designing my own university lessons. Most schools give you a lot of freedom in designing lessons for those students, so I was comfortable designing high level lessons. But designing stuff for kids was something I hadn't really done much of in years.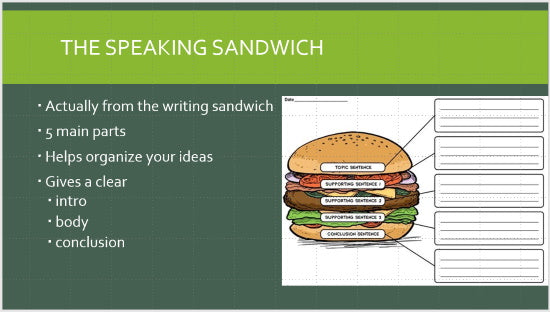 I was especially disappointed in a lot of the phonics books. Many of the most popular ones here are popular for the very reason that makes them terrible. They're designed for native English speakers. It just doesn't work as well with EFL kids.
So over time, I developed a multiyear program and my own series of phonics books targeting EFL students. (Side note: sadly, I haven't published them yet because the teacher's guides still aren't done even though the student books have been in use locally for a couple of years. Hoping this blog will give me some motivation and accountability to finish that project finally.)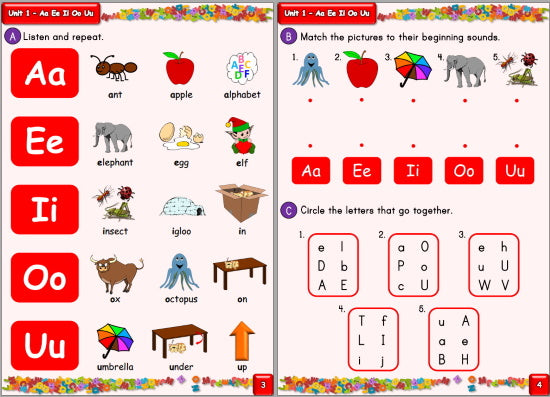 As the LRE school grew and developed, I started realizing more and more that I should do something related to teaching resources and teacher development. Teachers from other local schools were asking to buy my materials and asking me to come train their teachers. And asking me to help them make new resources themselves, which has been an absolute blast to do. It's like teaching and crafts just had the most wonderful baby!
So, I decided that I wanted a dedicated space to talk about that. Or to talk about related things like: "How do you stay super organized as a teacher?" "How do you make good resources that will engage your students?"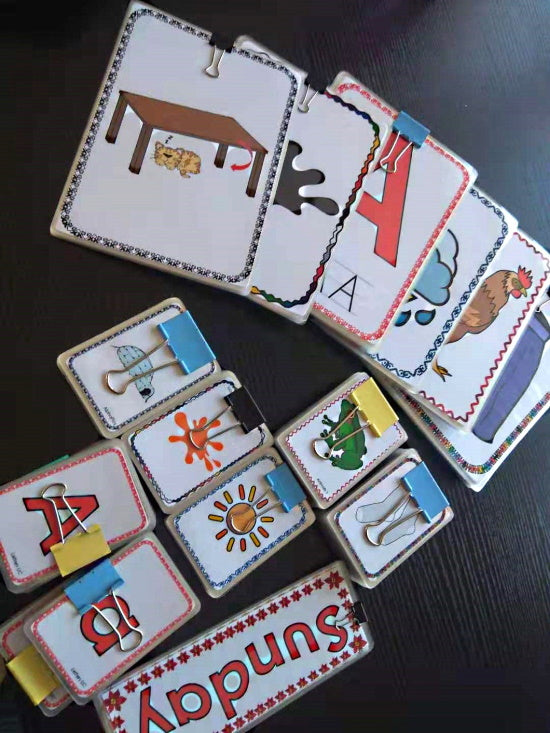 And so, that's what Little River has grown into as we've shifted more from teaching kids to coaching and helping teachers.
Where we are today
So today, I do teacher training for public school teachers across my province. I've traveled to some English training schools in other parts of the country to do teacher training workshops. I'll train and coach pretty much anybody who is interested.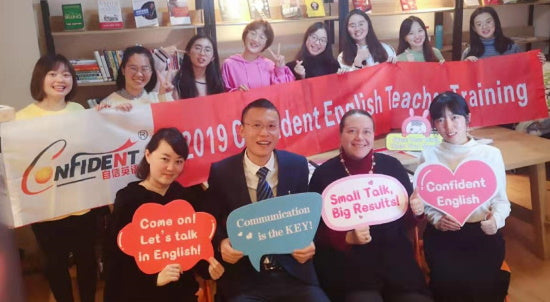 I absolutely LOVE helping teachers. It's definitely the most fun part of my work. (Especially when we get to play some English games after the workshops)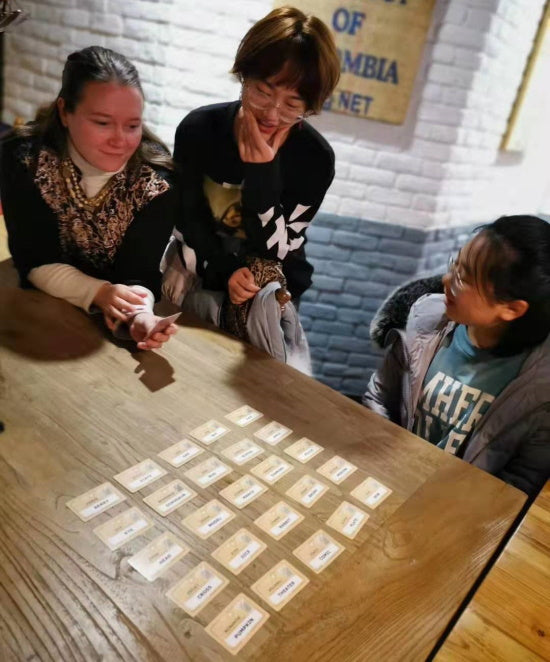 I also design curriculum and lesson plans for some of the local training schools. And of course, I make resources.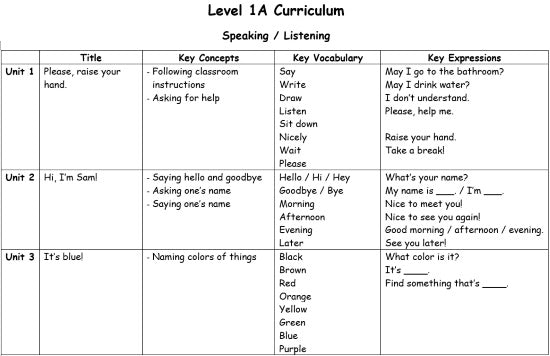 I'm really excited about teaching you to make creative, custom teaching materials. But even if you don't want to make your own, I'm happy to share the best places to purchase them or even get free ones! (including my own shop and Teachers Pay Teachers stuff of course ?)
Family
I would be remiss if I didn't talk about my better half. My dear husband is definitely and integral part of the team, even if he is a lot less hands-on with the training and resource side of things. Stephen is my #1 sounding board, confidant, best friend, and love of my life.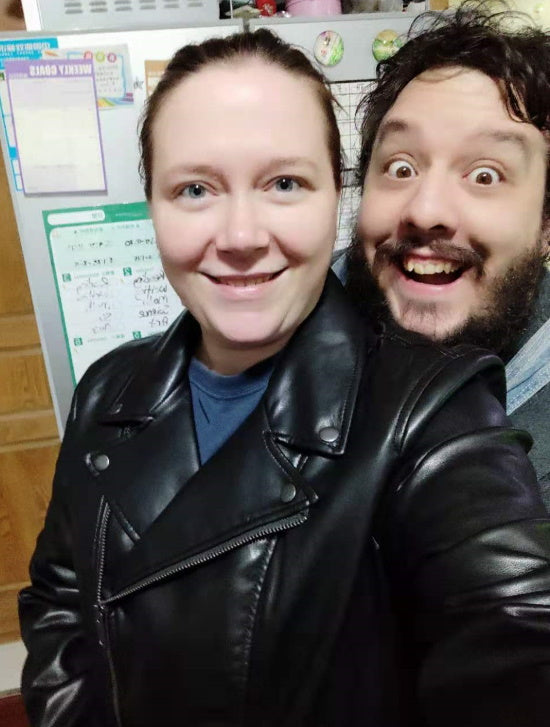 Plus he's a great teacher who honed his teaching skills in childhood by being the oldest of six kids.
We also have two great kids, Brooke and Thor, who may make appearances in photos from time to time. Thor (3 years old at the time of this article) is still a bit too young to be helpful with resource design, but Brooke (currently 8 years old) is a great test subject for any new materials I make. And they're both a ton of fun and keep me on my toes.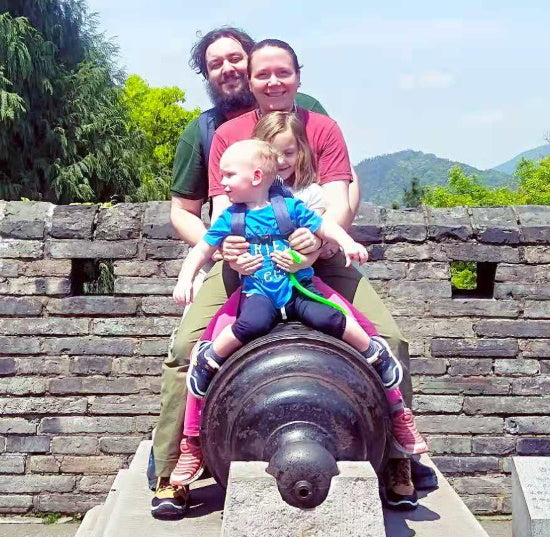 Our hopes
We're just really hoping that this site can provide us with a way to help even more teachers. Face-to-face is awesome, but it certainly is more limited than the web. We really hope to serve more teachers and think that this platform will allow us to do just that.
One of the slogan's for LRE is "Education around the world." So that's our goal: to help teachers all around the world.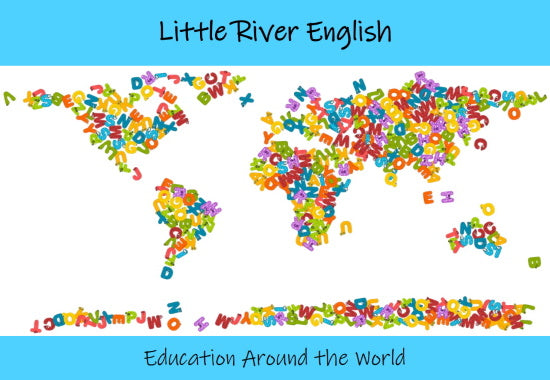 Even if you're not an English teacher, we'll definitely be posting articles, tips, tutorials, and resources that we hope you'll find useful. My goal is to be well-rounded and to help everyone, not just fellow English teachers.
I'm super excited to share all the things with y'all and that this can be a place where we can build a great community and help each other, encourage each other, and motivate each other to be the best teachers we can be.
I look forward to getting to know you. Feel free to sign up for the newsletter to stay up to date on everything that we're sharing here. Feel free to email us anytime with questions, concerns, or just to say "hi."
Also, if you have any thoughts on topics, feel free to let me know. I have a list of well over 100 ideas already but can always add more or rearrange the order if I see that people are interested in a particular topic.
Lots of love,
~Cary Ann from Little River English